Wilhelm Schäfer GmbH was founded in 1947 and is headquartered in Heppenheim. In 1985 the company became the exclusive Takeuchi import and distribution partner for Germany, Poland, Lithuania, Latvia and Bulgaria, where it is also responsible for aftersales and spare-partservices. Wilhelm Schäfer Baumaschinen GmbH has been a member of the Dutch Verhoeven Group since 2014.
ALWAYS IN TOUCH WITH THE LATEST TRENDS: MARKET FOCUS AND CUSTOMISATION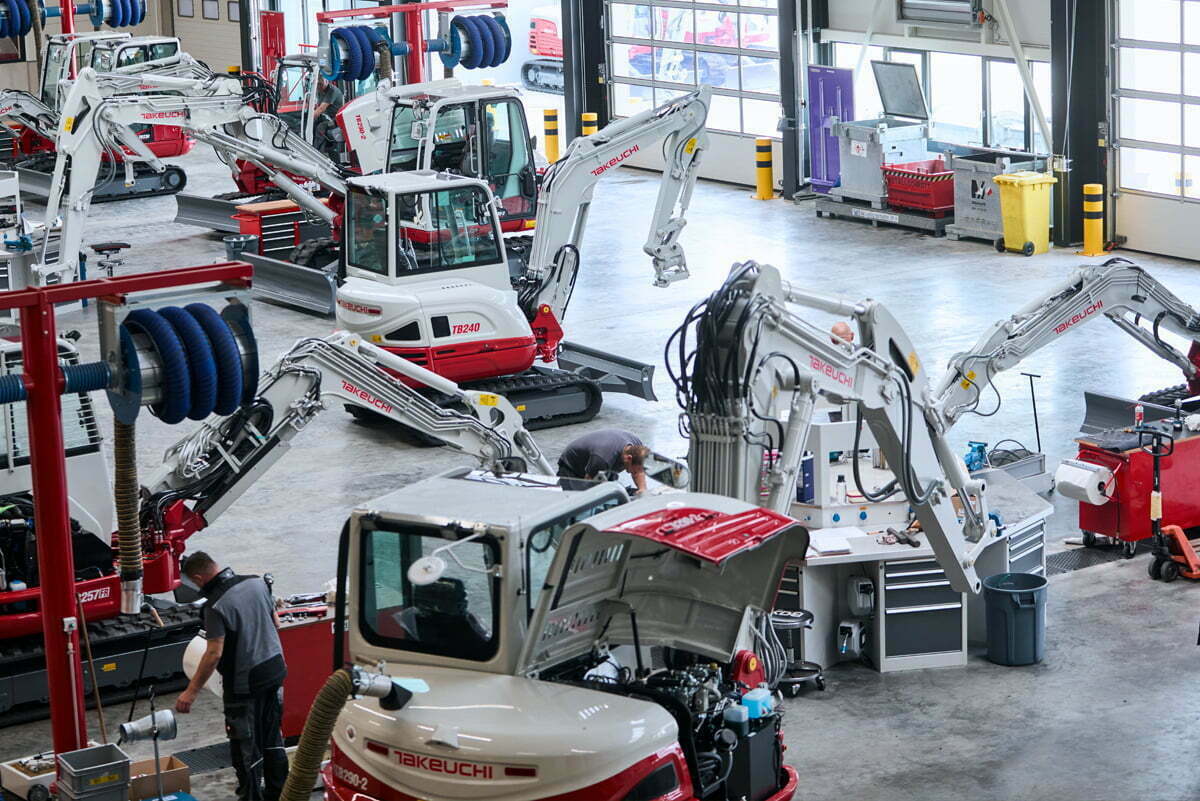 Wilhelm Schäfer GmbH is setting new standards in the development and optimisation of premium Takeuchi construction machinery. The company's goal is to improve handling and convenience of the machinery for excavator operators, while also catering to the interests of entrepreneurs by enhancing the equipment's productivity and cost-effectiveness.
In constant close contact with dealers and customers, we keep ongoing records of all present and future requirements for Takeuchi construction machines. The manufacturer in Japan incorporates these findings into its design and development processes, resulting in the legendary ruggedness and smart design of Takeuchi construction equipment.
But this is far from all. At the company headquarters of Wilhelm Schäfer GmbH, Takeuchi construction machinery is further customised for our markets with the addition of specialist equipment and attachments. Customers can thus choose between four configuration packages plus many other options, thereby customising their machines to match their individual needs.
Wilhelm Schäfer GmbH is expanding steadily. If you are looking for a new challenge and would like to build a career with us, go to our career page to access the vacancy listings.
Our values: Fair and professional
Our most important customers are our dealers. Many of these independent dealerships have been our close partners for many years. Mutual trust, expertise and fairness are the values we live by every single day. After all, requirements in the construction sector are constantly growing more complex and demanding, and schedules are becoming increasingly tight. We assist our dealers and their customers by providing fast, solution-focused support and rapid decision-making.
In addition, we support our dealers by offering:
Our professionals are at the ready wherever they are needed.
Premium machinery requires expert advisory services.
Over 20,000 spare parts within 24 hours.
Are you interested in joining the Takeuchi dealership network? Just contact us.